Favorite Hensley & Gibbs Bullet Moulds
© 2014 – Thomas C. Dugas
Everyone has a favorite something in their hobby.  For bullet moulds, especially the Hensley & Gibbs Bullet moulds I own, I certainly have some favorites.
I rarely attend a shooting session that doesn't involve .38 Special wadcutters.  And that means design number 50, the button tip 146 grain wadcutter.
<![if !vml]>

<![endif]>
The mould I tend to use the most is a six cavity plain base #50 pictured below:
<![if !vml]>
<![endif]>
I've used 10 cavity moulds in the past, and I do sometimes use them when I need to make a lot of bullets quickly in a short amount of time.  But 90% of the time these days I used that six cavity mould to make my wadcutters.
As you can see from my hollow point page, I like playing around with hollow point moulds.  My favorite for pistol caliber has to be the #503 Plain Base for .44 Mag and the #86 30-30 mould for my Winchester 94:
<![if !vml]>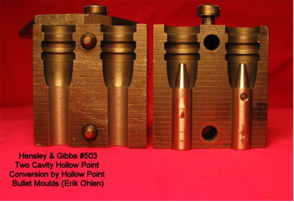 <![endif]>
Hensley & Gibbs #503 Plain Base
Hollow Point Mould
And…
<![if !vml]>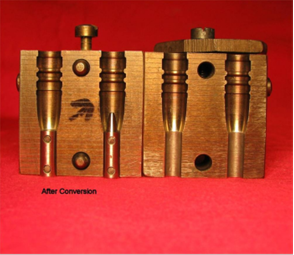 <![endif]>
Hensley & Gibbs #86 30-30
Rifle Bullet Hollow Point Conversion
For .45ACP, I started off with a 8 cavity design #34 in bevel base and shot thousands and thousands of those bullets over the years.  Gradually I came to like the #68 plain base better.  There was nothing the 34 could do that the 68 couldn't do at my range sessions.  So over time I switched over to the Crawford designed #68 in plain base:
<![if !vml]>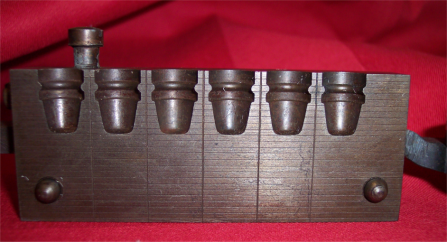 <![endif]>
Hensley & Gibbs six cavity plain base mould…
The above mould is in my collection and it gets used quite a bit.  It heats up fast and almost immediately produces great looking and performing bullets.
To be continued…