Return to the Hensley & Gibbs Hollow Point Page
Hensley & Gibbs Design Number 86
for 30/30 Caliber Rifles (.30 WCF)
© 2014 – Thomas C. Dugas
A recently purchased two cavity Hensley & Gibbs #86 mould. 
From the Hensley & Gibbs factory ledger:
#86 - .30 caliber "standard .30-30" bullet. 170 grains in linotype at 1.000" length. Also available at .827" length =135grains in linotype. Gas check base, two round grease grooves, one crimp groove. .155" nose meplat.
As you can see in the before photo the mould was converted to a round nose sometime after it left Hensley & Gibbs.  I knew before I bid on the mould that it had been converted, but I asked for supplemental photos before I bid and decided that the mould could be safely returned to its original configuration since my intent was to convert the mould into a combination flat point and hollow point anyway.
Here are the before photos, pictured just as I received it after the auction closed:
<![if !vml]>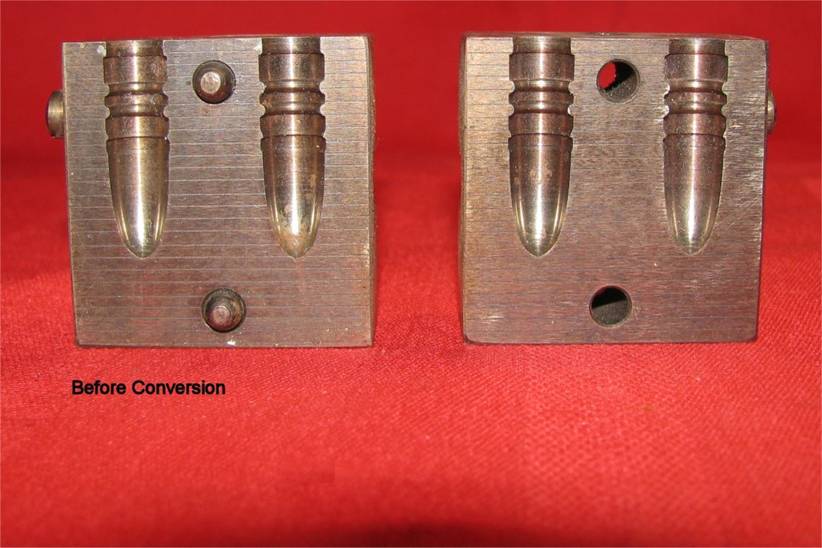 <![endif]>
In the above photo, the nose profile is round nose and it should be a flat point.  Close examination of the nose area reveals the post factory modification.
So, off the mould went to Erik Ohlen for conversion to Hollow Point.  I asked Erik to retain as much of the original profile and design as possible and completely sacrifice the "improved" round nose area.  He was successful.  Here is the post conversion photo:
<![if !vml]>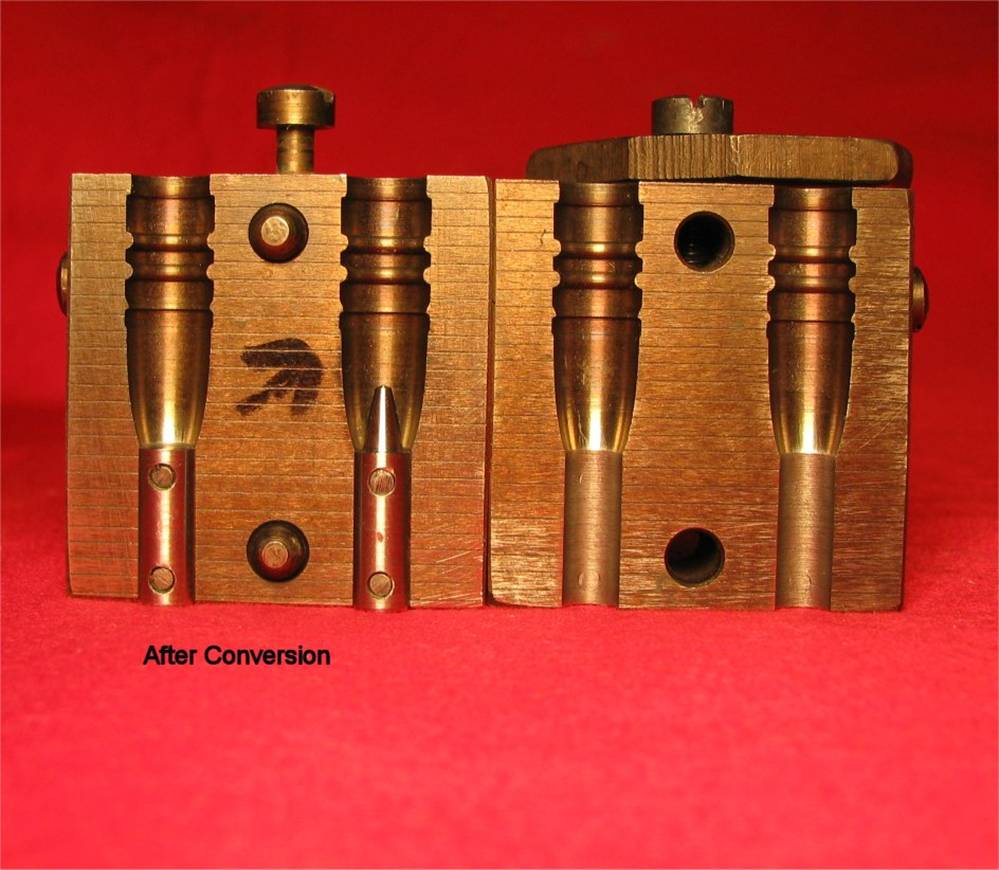 <![endif]>
A nice surprise is the stamping of the pin locations with "A" and "B" respectively.  I ordered two sets of pins, a hollow point pin and a flat nose pin to recreate the solid nose of the original design.  Here is the pin stamping:
<![if !vml]>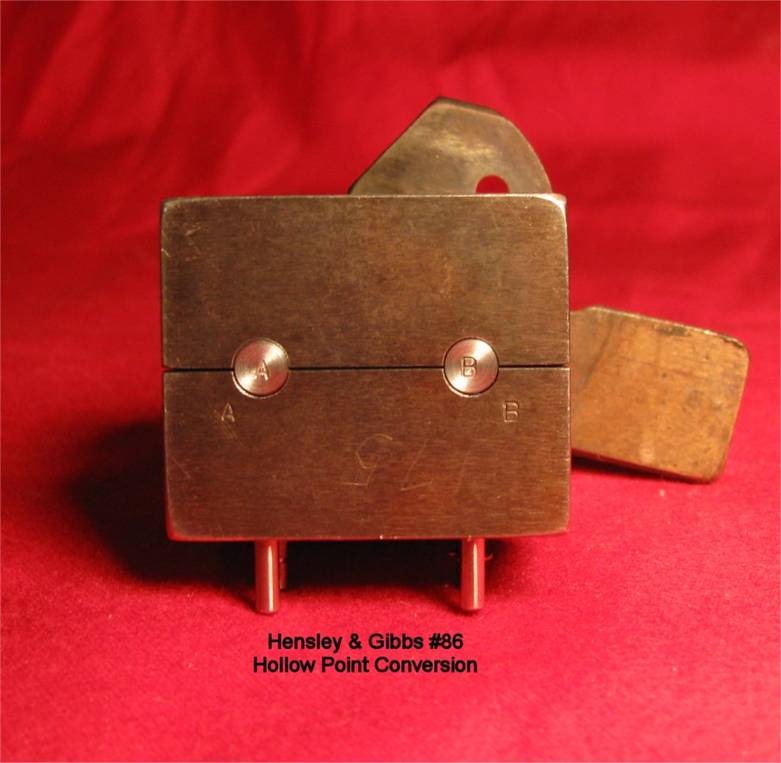 <![endif]>
The pin stamping is something I've wanted since my early moulds from Erik lack the stamping.  A very useful addition.
I just received the mould in the mail tonight.  I will update this thread in a few days after I cast with it and get a chance to load up some 30-30 loads for my 1946 Winchester 94:
<![if !vml]>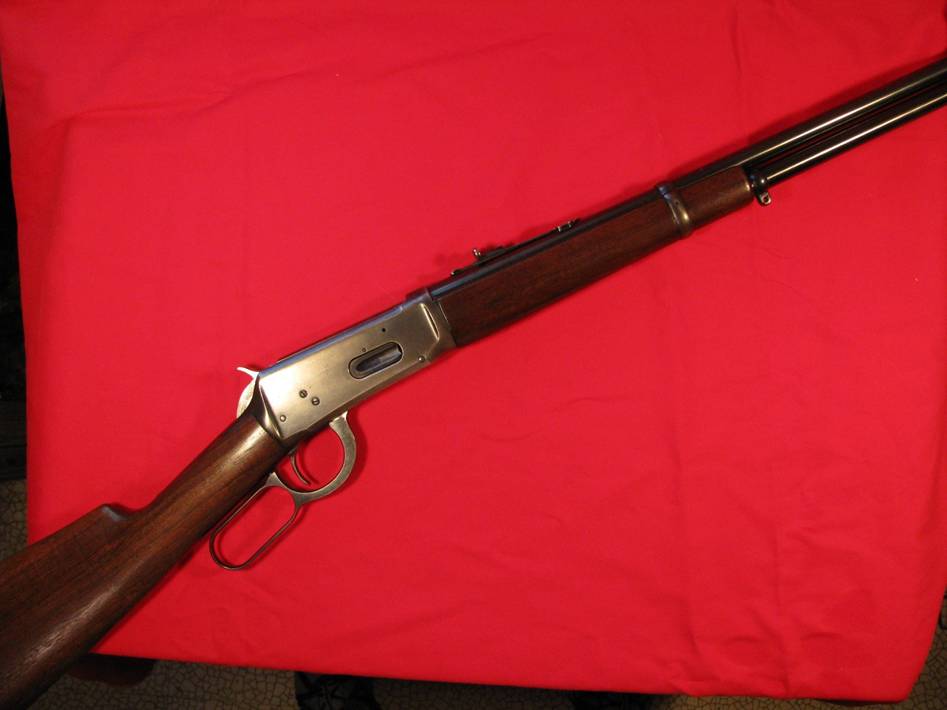 <![endif]>
Mould seems to work just fine.  I fired up the pot today and put one solid point pin and one hollow point pin in the blocks:
<![if !vml]>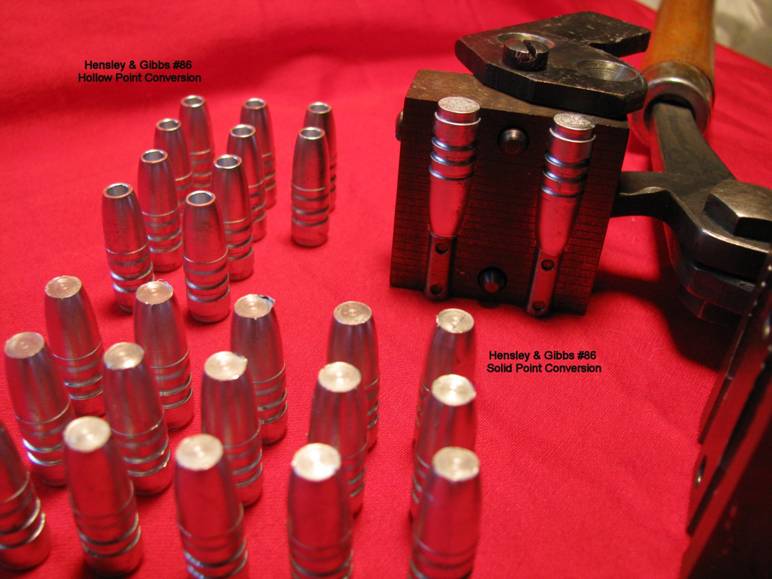 <![endif]>
I am going to tumble lube these tonight and load up some loads for the range this week.  Still have a bit of tweaking to do to the setup, may have to change handles, a few of the boolits seemed to have finning, the blocks fit perfectly so it may be a slight mismatch between blocks and handles.  Plenty of spare 2 cavity handles on hand.
<![if !vml]>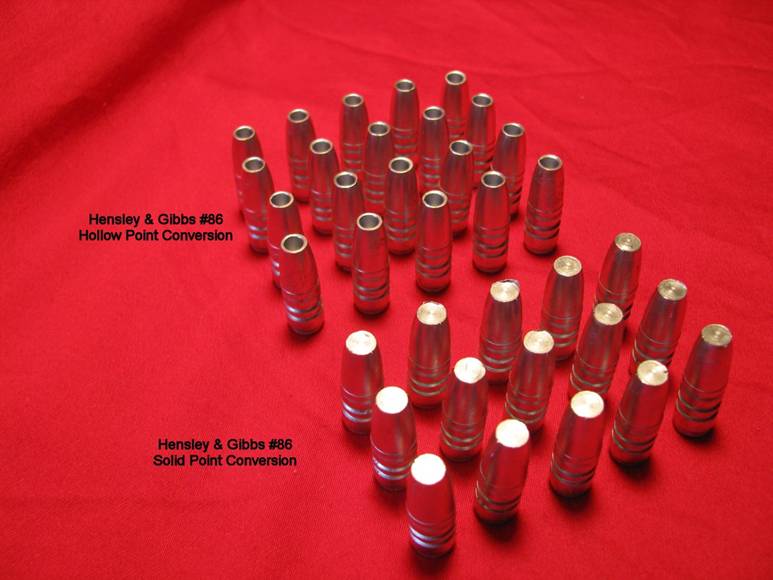 <![endif]> 
<![if !vml]>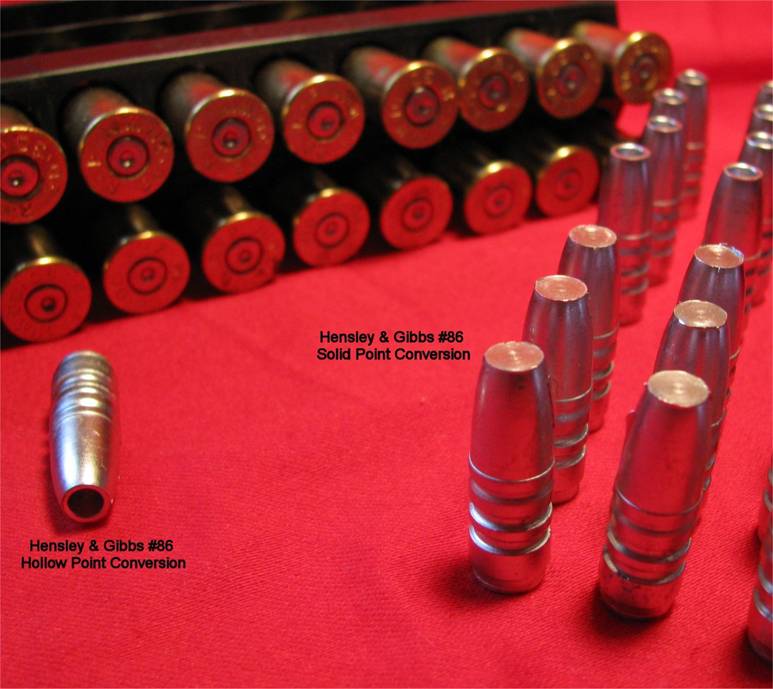 <![endif]>
Range Report.
Four sets of loads.  Using Radway Green 4895 (Pulldown powder from Wideners).  Min Load was 32.0 grains, max load was 35.0.  All rounds carried gas checks.  Seated to normal over all length (OAL).  I am going to keep trying different loads.  Not happy with this combination.
<![if !vml]>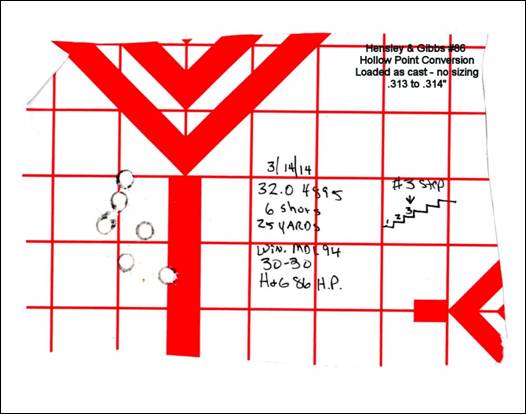 <![endif]><![if !vml]>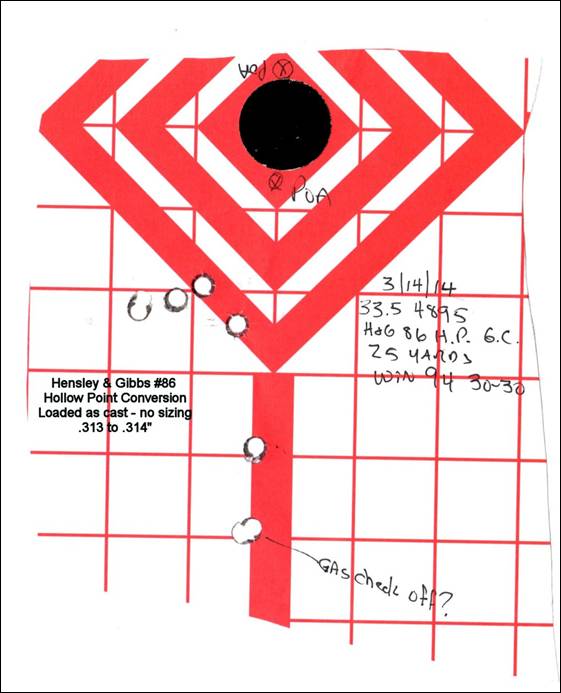 <![endif]><![if !vml]>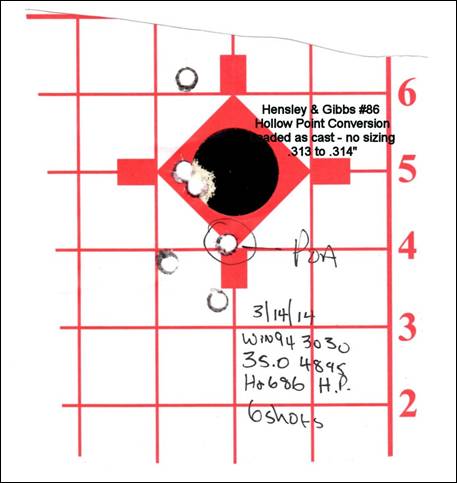 <![endif]><![if !vml]>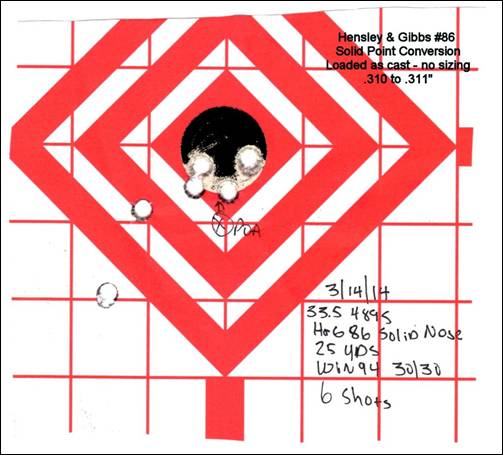 <![endif]>
Back to the Hensley & Gibbs Hollow Point Page