Return to the Back Creek Diary Pages
Thoughts on .22 Handguns
© 2014 - Ed Harris
Over the years I've fooled with a variety of .22 handguns, both auto pistols and revolvers, for target and field shooting. While current fashion seems favor one or another variation of Ruger semi-auto, I've had my share of frustration which these. Out of the box, hand held from sandbags, Rugers average 1-1/2" ten-shot groups at 25 yards with standard velocity ammo of average quality. High speed ammo runs closer to two inches.  Firing off a Ransom rest improves this, but trick results don't reflect realistic expectations of field utility because your own aiming and holding errors increase the "system error budget" more than inherent accuracy or lack of it, attributable to gun and ammunition.
I tested many Ruger .22 auto pistols off the Ransom Rest when I worked for the company. While their potential accuracy is amazing for a gun in this price range, i.e. two inches at 50 yards from machine rest for a series of ten-shot groups with almost any ammo, and 1.6" or less with "good" ammo (which today costs about $50 a brick) the simple fact is that in field shooting it's a bit hard to carry the Ransom rest along with you and get Mr. Wabbit to wait while you set it up.
The Ruger trigger as it comes from the factory leaves a lot to be desired.  Inconsistency of trigger pull causes fliers in your groups. Getting a match quality trigger pull with minimal creep, no hiccups and a clean break usually requires a trip to the gunsmith, and replacement of the factory parts with custom, after-market items.
If you replace any of the springs you may induce functioning problems if you use anything other than high velocity ammo.  HV loads fall down in the accuracy department, so it sort of defeats the whole purpose. I don't have much use for high velocity ammunition because it is less accurate and too noisy.
Fixed sights are best for a field or "survival" gun. You need to spend range time to see which ammo is reliable and accurate, get a good supply of that and then zero the gun. Testing outdoors is best, because lighting on indoor ranges is different and will affect your zero.  I recommend that fixed sights be zeroed to strike about 1 inch above point of aim at 25 yards. The Ruger adjustable sights don't stay zeroed unless you flood them with LocTite. 
Some users prefer scopes or red-dot sights. By the time you put quality, reliable optics on one of these you increase system cost several hundred dollars and the resulting "full race dragon" pistol tips the scales at about 50 ozs.!  An old  Remington Nylon 66, Marlin Papoose or Chipmunk youth rifle doesn't weigh very much more and is easier for the average person to use than a pistol to shoot camp meat.
The barrels and chambers on current Ruger Mk.III pistols are better than on guns I tested back in the 1980s. Polymer frame pistols are much lighter than steel, while providing a full sized gun to hold onto, but trigger and sight problems still exist.  By the time you buy a new Mk. III, do a professional trigger job and put good optics on it, you've invested more than you would to find and obtain a very good "shooter-grade" Colt Woodsman or fine pre-war High Standard.  The "full race Ruger" is much more bulky and less handy than "Target and Trapper" pistols of the 1930's and 40's, designed for the very backpack survival situations we talk about around the camp fire and plan for.
If you like single-actions the Ruger Single-Six is a sleeper. I find mine far more useful than the Bearcat it replaced.  The Bearcat's fixed sights seem to always shoot low and right for me. For field work the Single Six needs better sights. I put Bowen Rough Country ones on mine.  I prefer the Single Six in .32 HRM caliber as a trail gun because that option gives you reloading options, flatter trajectory which makes reliable game hits to 100 yards possible, useful field energy approximating the .32-20 Winchester, all in a trim field gun, with better accuracy than all but the best .22s. 
<![if !vml]>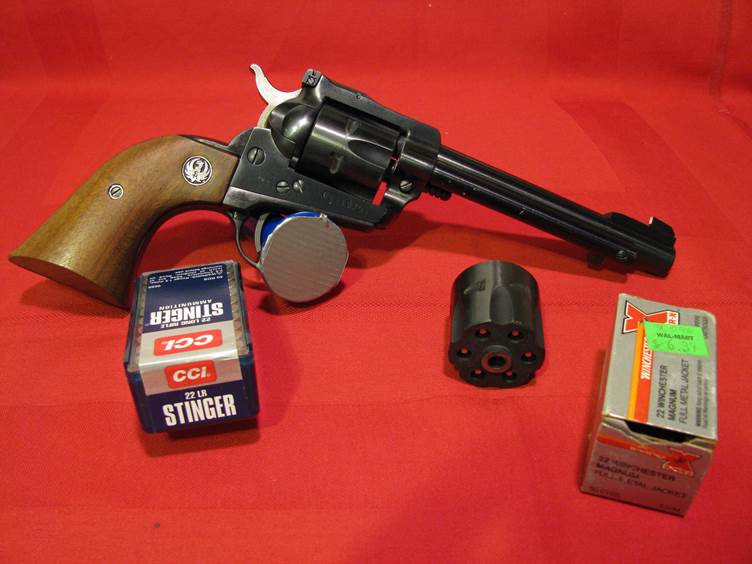 <![endif]>
Ruger Single Six Convertible, 22LR & .22WMR
I recently put my circa 1942 Colt Sport 4-1/2" barrel Woodsman through its paces. I tested it hand-held on sandbags, indoors at 25 yards using the original iron sights. I fired five consecutive ten-shot groups with several ammos,  then compared results against similar samples fired with some borrowed modern and older .22 revolvers and auto pistols which were deemed  by their owners as "good shooters." 
22 Long Rifle Handgun Accuracy Test
How the .22 Handguns Did

Average of five groups shot hand-held off sandbags at 25 yards

(Number of shots per group is noted under firearm information)

Firearm Type

.22 LR Ammunition

Standard Velocity Ammo

High Velocity Ammo

CCI-StdVel

CCI-SSHP

Win-T22

CCI-Blazer

Win-SXHP

Row Mean-Gun Avg.

RANK

Colt Cobra 3" revolver

(two 6-shot cylinders per group)

2.8

2.9

2.4

3

3.76

2.97

6

Beretta 70S 3-1/2" autopistol

2

2.42

2.92

2.72

2.98

2.61

5

(9-shot groups)

Hi-Std Sentinel 4" revolver

2.62

2.37

1.87

2.34

2.7

2.38

4

(9-shot groups)

Colt Woodsman 4-1/2" auto

1.51

1.5

1.97

2.02

2.12

1.82

1

(10-shot groups)

Hi-Std Duramatic 4-1/2" auto

1.98

1.54

2.34

2.62

2.07

2.11

3

(10-shot groups)

Hi-Std Model B 6-3/4" auto

1.78

2.08

2.04

1.85

2.62

2.07

2

(10-shot groups)

Column Mean-Ammo Avg.

2.12

2.13

2.26

2.43

2.71

RANK

1

2

3

4

5
Auto pistol data below are averages of five consecutive 10-shot groups at 25 yards. Both Rugers were fired using a 4X Leupold pistol scope to do a better job of testing the pistols, rather than my ability see the sights!  The High Standard Victor is a proven match gun used by a Master competitive shooter, intended as a benchmark. I shot it as well hand-held at 25 yards off handbags with my 59 year-old eyes as the gun will do at 50 yards with the same ammo off the Ransom rest. So, that is the measure of truth and reality! 
The High Standard Model B is 1942 production with 6-3/4" barrel which was a retired bush pilot's actual Alaska survival gun.  I shot some old ammo from the survival seat pack that used to ride in his DeHavilland Beaver float plane and some new stuff. 
<![if !vml]>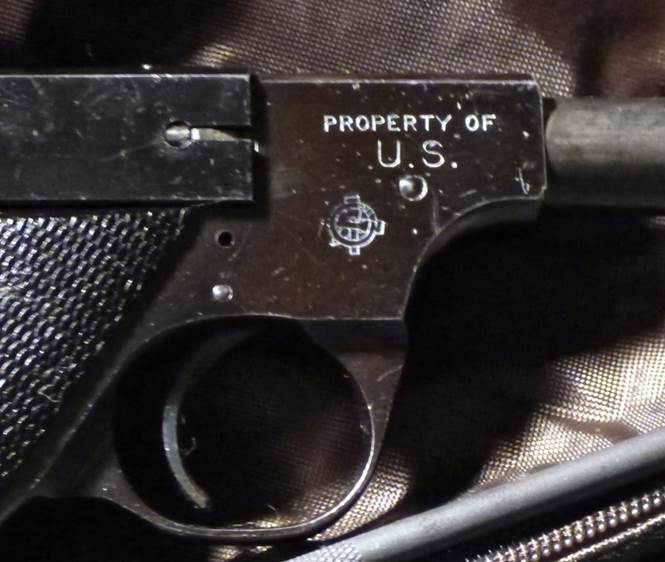 <![endif]> 
The Beretta 70S is the ca. 1968 "Jaguar" model which used to be imported into the US.  This is the lightest 6" barrel .22 autoloader I have ever seen, weighing only 20 oz.  These also came in 2-barrel sets with 3.5" and 6" barrels.  They are difficult to shoot accurately, but are quality guns if you can find one.
*Two High Standard Sentinel revolvers tested are both fixed sight 9-shooters found at pawn shops for around $150.  These are ugly very serviceable if found in good mechanical condition which time and index well, without noticeable cylinder end play. I fired one 9-shot cylinder load in each per group.
**The Colt Officer's Model Match was made in 1959 and is a target grade revolver, a 6-shooter. In it I fired TWO cylinder loads, totaling 12 shots per group.
The Walther P.22 was a current model, which illustrates my disappointment with current offerings of compact .22 pistols. It is barely accurate enough for combat training on silhouette targets.  As a kid I could shoot my Whamo slingshot more precisely than this! 
| | |
| --- | --- |
| | |
| Ammo Avg. ES(Ins.) 5x10@25yds* | |
| | |
| 1942 Colt Woodsman 4-1/2" irons | Inches |
| CCI Std. (USA) | 1.5 |
| CCI Blazer (USA) | 2 |
| Eley Std (UK) | 1.25 |
| | |
| 1942 High Standard Model B, 6/3/4" irons | |
| Sterile Package Brown Box FMJ Ball M24 | 2 |
| Canuck (1965) HP | 2.2 |
| CCI Blazer (USA) | 1.85 |
| Eley Standard (UK) | 1.85 |
| | |
| HS Victor 5-1/2" irons | |
| Eley Std. (UK) | 1 |
| Eley Sport (Mexico) | 1.3 |
| | |
| HS Sentinel R107 revolver 4" irons | |
| CCI Std. (USA) 2.6"* | 2.6 |
| Eley Std. (UK) 2.3"* | 2.3 |
| Eley Sport (Mexico) 2.3"* | 2.3 |
| CCI Blazer (USA) 2.3"* | 2.7 |
| Winchester Super-X (USA) 2.7* | 2.7 |
| | |
| HS Sentinel R103 revolver 6" irons | |
| Eley Sport (Mexico) 2"* | 2 |
| CCI Blazer (USA)  2.2"* | 2.2 |
| Winchester Super-X (USA) 2.5"* | 2.5 |
| | |
| Ruger MkI 6-7/8" 4X Leupold | |
| CCI Std. (USA) | 1.5 |
| CCI Blazer (USA) | 2 |
| Eley Sport (Mexico) | 1.1 |
| | |
| Ruger Mk.III 5-1/2" 4X Leupold | |
| Eley Std. (UK) | 1.25 |
| Eley Sport (Mexico) | 1.25 |
| | |
| Walther P22 3.5" irons | |
| CCI Std. (USA) | 4 |
| CCI Blazer (USA) | 5 |
| | |
| Beretta 70S 6" irons | |
| Eley Std. (UK) | 2 |
| | |
| Colt OM revolver 6" irons | |
| Eley Std. (UK) 2" ** | 2 |
I haven't seen anything in new offerings of .22 handguns which is going to make me replace my old Colts or High Standards. If you search you can still find a "shooter grade" Colt Woodsman, Huntsman or Challenger for around $700.  A High Standard Model A, B, GB, D, H-B, or H-D in similar VG to Exc. condition will sell for $200 less than a Colt. The High Standard Model B uses the same magazines as the pre-war Colt Woodsman. It is similarly trim, light and accurate.  High Standards in serviceable condition are common on web sites such as Cabela's Gun Library, and are worth looking for to have shipped to your FFL dealer, if you are serious about finding a .22 pistol for your survival ruck. 
Every vintage Colt or High Standard .22 auto pistol I've shot, if not abused, shoots just these.  A used High Standard costs less than a new Ruger.  A good used Colt costs less than buying the Ruger and then having it ""tricked out" by a gunsmith.  The classic trapper's .22 autos are sure handy in the rucksack and worth every penny!
Surprisingly, an inexpensive .22 revolver may shoot as well as an expensive one.  If you can find one of the H&R Sportsman, High Standard Double-Nine or Sentinel 9-shot .22 revolvers, tight and in good mechanical condition, and cheap (less than $200) don't pass it up. You may be pleasantly surprised. Test fire it by cutting the corner out of a Kraft paper grocery bag, poke the muzzle out and fire a cylinder load through it double-action. Inspect the bag to see if any lead fragments cut holes when exiting the sides of the bag.  If not, it's a keeper. Clean it well, and shoot GREASED or WAXED, UNPLATED ammo in it. Avoid plated, dry-lubed bullets in revolvers, because they lead up the forcing cone and cylinder throats, destroying accuracy.
Ordinary CCI Standard Velocity, the CCI High Velocity Small Game Bullet (SGB), CCI Subsonic Hollow-Point and Eley Sport are the best bang for the buck. Some batches of CCI Blazer shoot OK, but you need to test.  The CCI Subsonic HP is the only standard velocity round I have found which expands reliably in my 4-1/2" Woodsman.  Of the high velocity rounds the Winchester Power Point was best. Getting expansion from .22 revolvers is problematic because the cylinder gap reduces velocity and any cylinder misalignment causes asymmetrical scrubbing which accentuates initial yaw as the bullet leaves the muzzle.
In water-jug tests I have found that the same bullets which expand well from the 4-1/2" Woodsman do not from revolvers.  In revolvers you are better off with solids. High velocity is OK if you can find a batch of unplated stuff that is accurate. I use the Hanned SGB die to clip the noses off to make flat points, which are more effective.
About 25 years ago I went through a succession of S&W .22 Kit Guns and K-22 revolvers. I didn't find any that would average consistently less than 2" at 25 yards hand held off handbags. A few were better than that on the Ransom Rest, but Dad's Woodsman put them all to shame when fired off sandbags.
So practice with your .22 handgun frequently from a field position, using the sights you've got. Use a Para cord lanyard to steady it unless you can get Mr. Wabbit to stay STILL while you settle the gun in your Ransom rest, yeah, right?
Photos of Targets Testing 22LR's: (Click on Photo for larger pic)
<![if !vml]>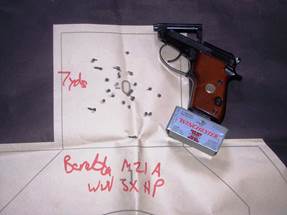 <![endif]>    <![if !vml]>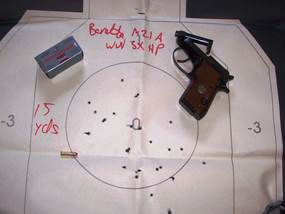 <![endif]>
Beretta Model 21A – 22LR
<![if !vml]>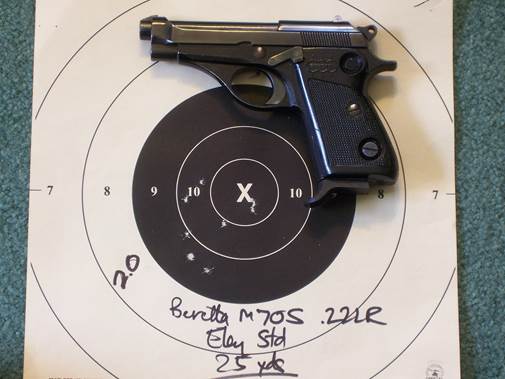 <![endif]>
Beretta M70S
<![if !vml]>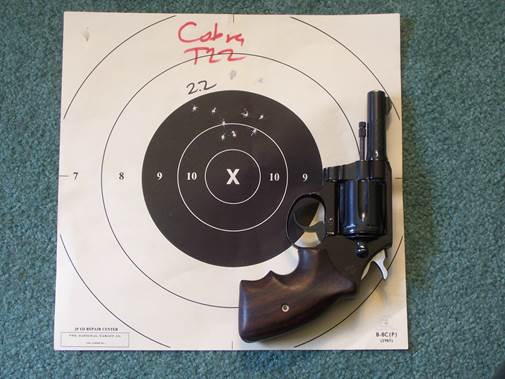 <![endif]>
Colt Cobra 22LR
<![if !vml]>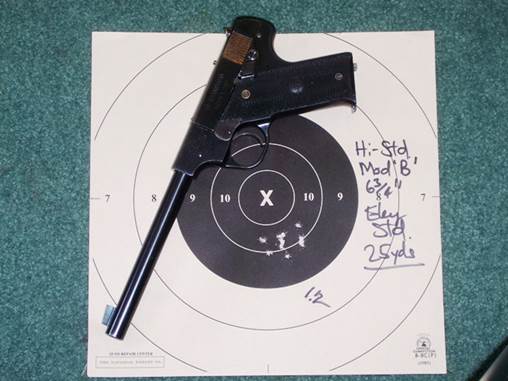 <![endif]>
High Standard Model B
<![if !vml]>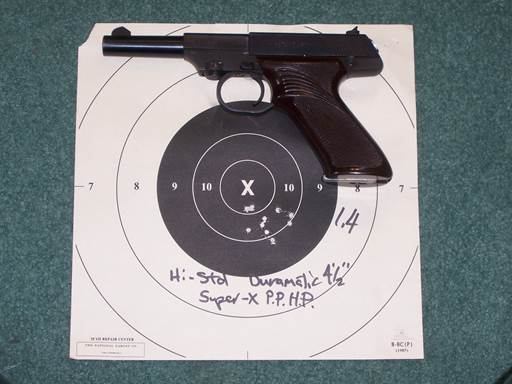 <![endif]>
High Standard Duramatic
<![if !vml]>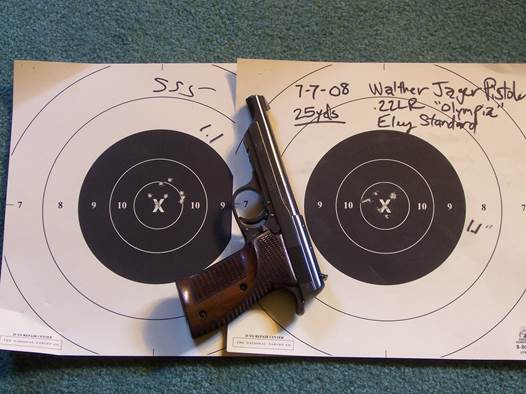 <![endif]>
Walther Olympia Jager Pistol
<![if !vml]>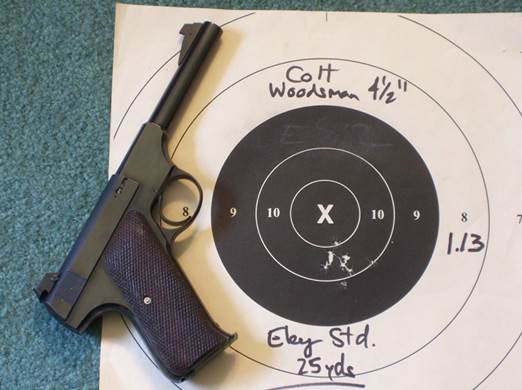 <![endif]>
Colt Woodsman