Lyman 452424 2 Cavity Repair & Hollow Point Conversion
Lyman 452424 Hollow Points in .45ACP
© 2014 – Thomas C. Dugas
This two cavity Lyman Mould has been occupying a dusty corner of my storage cabinet since 2007.  The mould had a damaged sprue plate lock screw of which I am the guilty party.  So, as it goes, I lost interest in this mould and it got pushed farther and farther back into the closet.
Two weeks ago having been blessed with a precious few hours of idle time, I decided to inventory my mould collection.  I dragged everything out of storage and transferred the data to a spreadsheet for easy use and tracking.  And I re-discovered this damaged Lyman mould and realized it was a perfect candidate for Erik Ohlen at Hollow Point Moulds to repair and convert to his new insert bar style hollow point conversion vs. the Cramer style.  The following Photos (after the first photo) depict the mould from damaged to repaired ending with the new ~244 grain Hollow Point Cup Style bullet which will end up loaded for both my 625 Mountain Gun or my Uberti SAA clone.  The cost of the repair and conversion was about ~$110.00 and the time was less than a week.
The mould worked perfectly and I have to admit I like the way the new sprue bolt works.
<![if !vml]>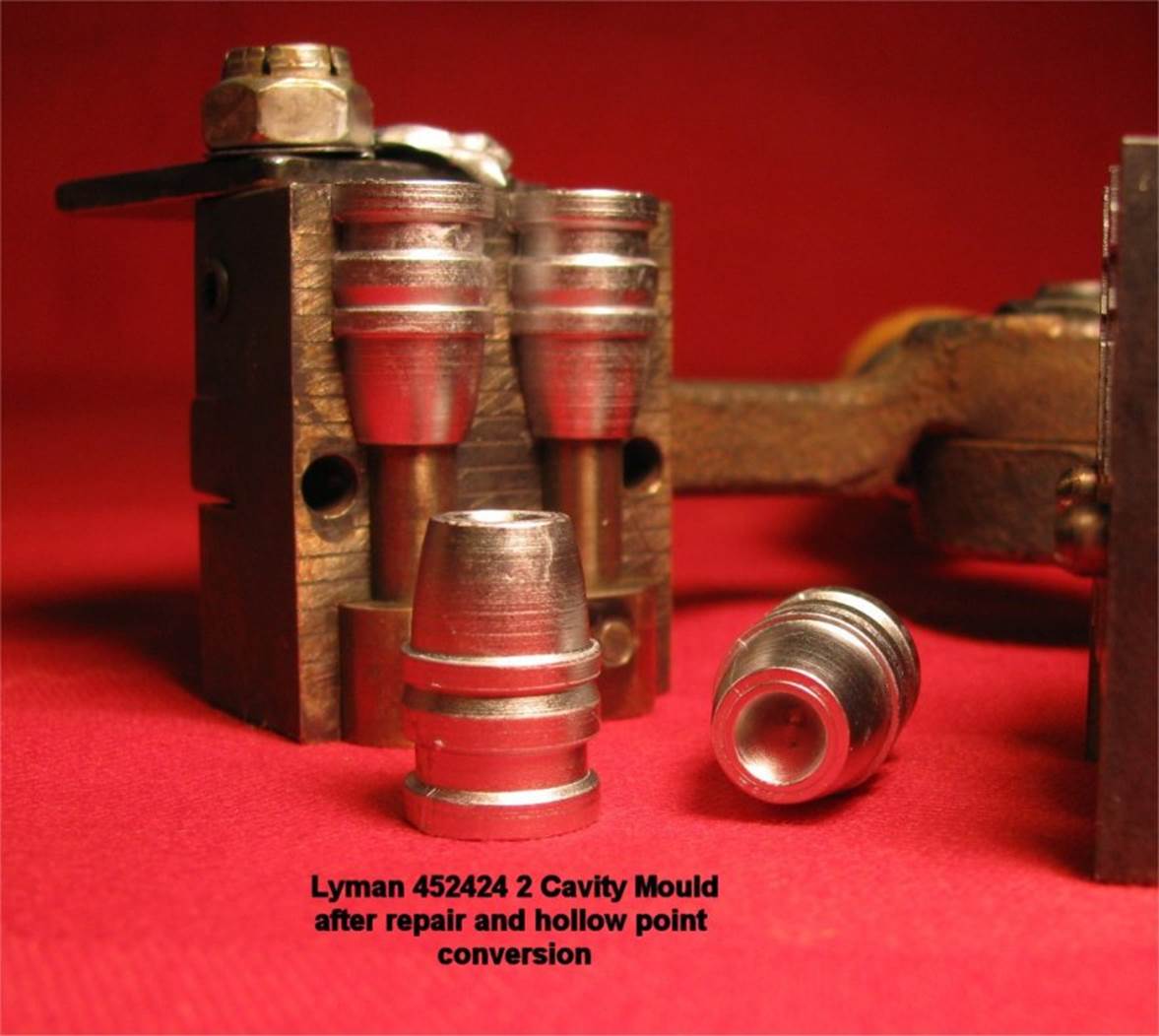 <![endif]>
The repaired mould and the first cast hollow points…
<![if !vml]>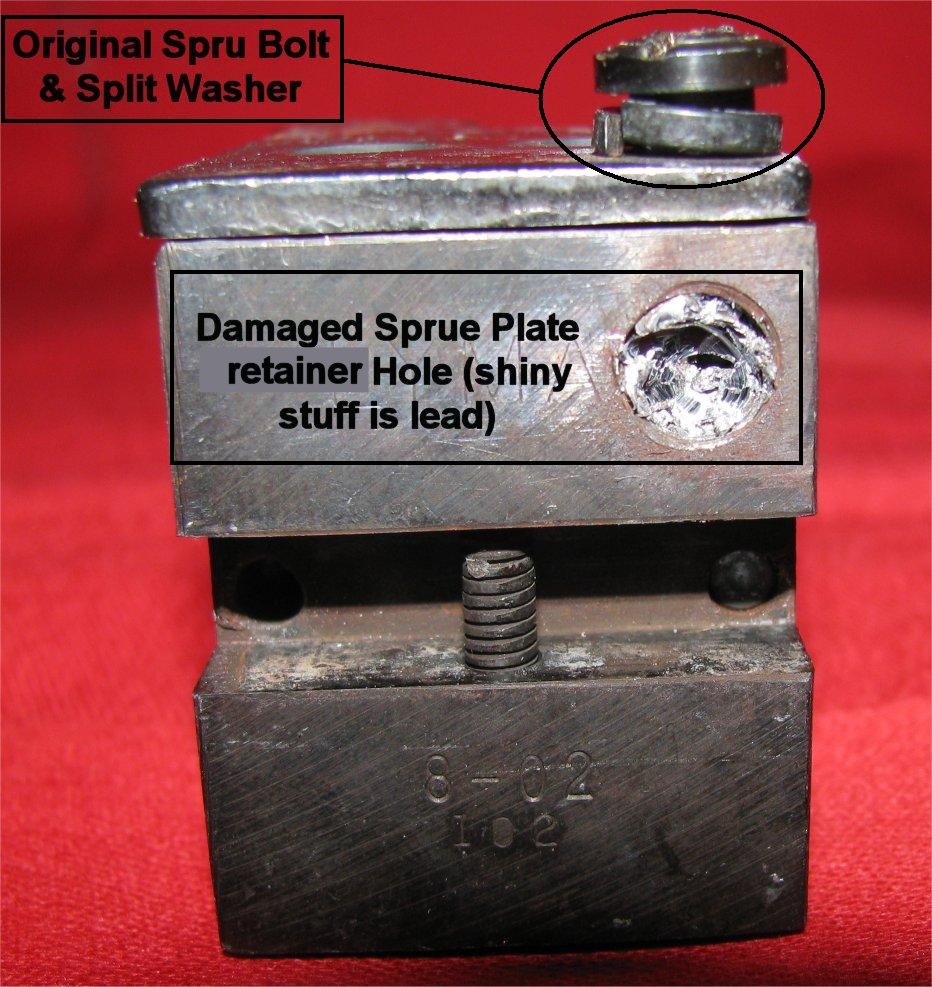 <![endif]>
The original damaged mould…
<![if !vml]>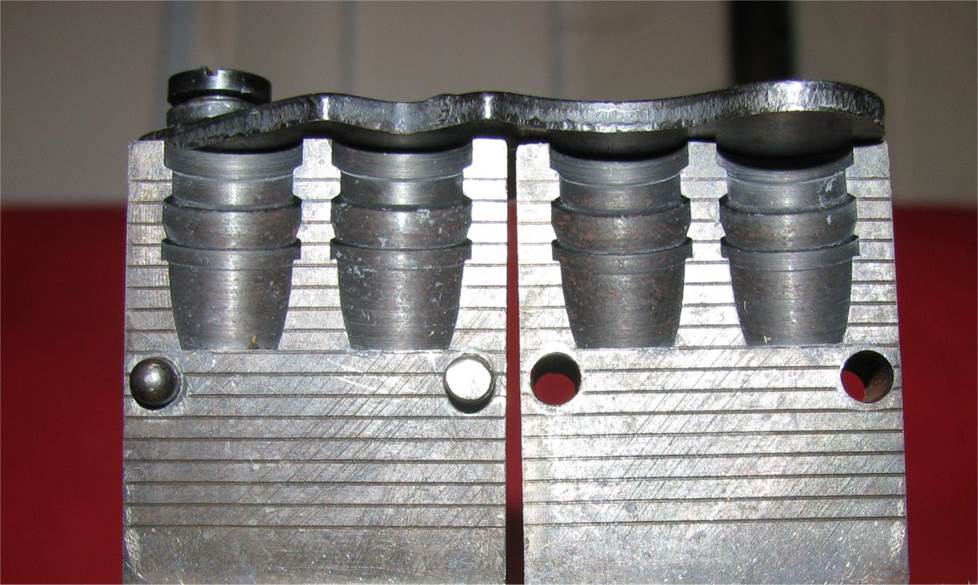 <![endif]>
Mould before Hollow Point Conversion…
<![if !vml]>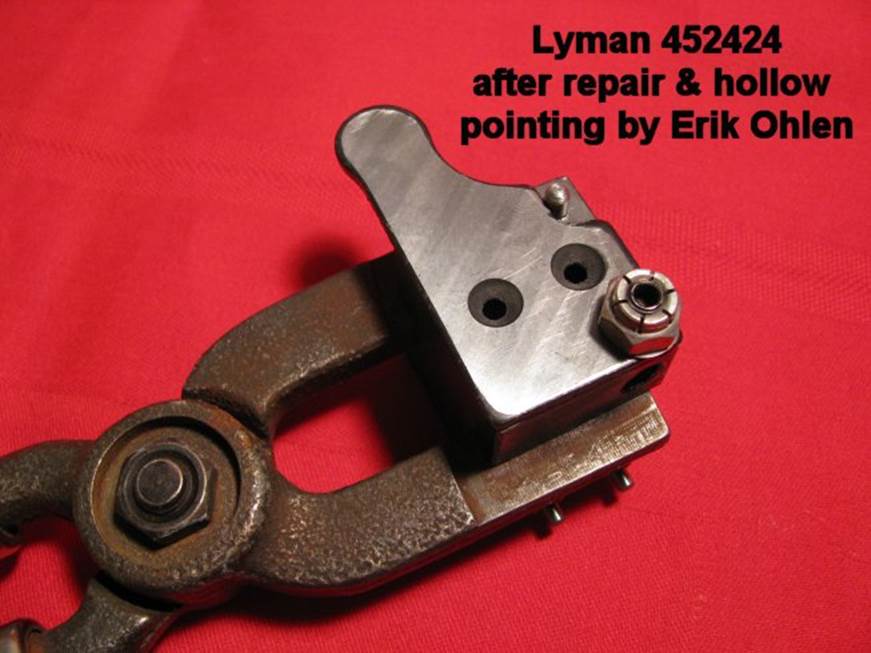 <![endif]>
The surface ground sprue plate and new bolt…
<![if !vml]>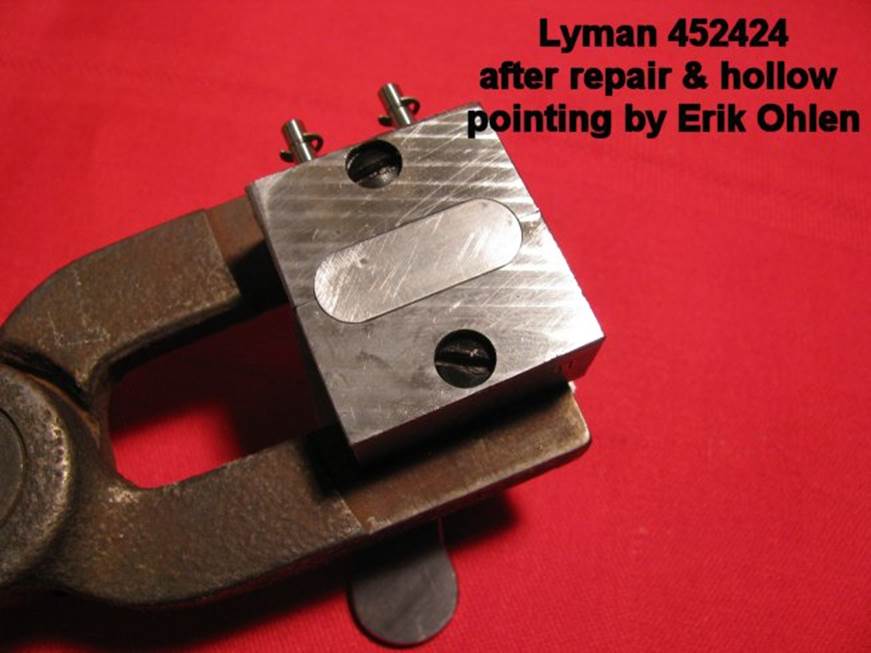 <![endif]>
Bottom of the blocks showing the hollow point insert bar…
<![if !vml]>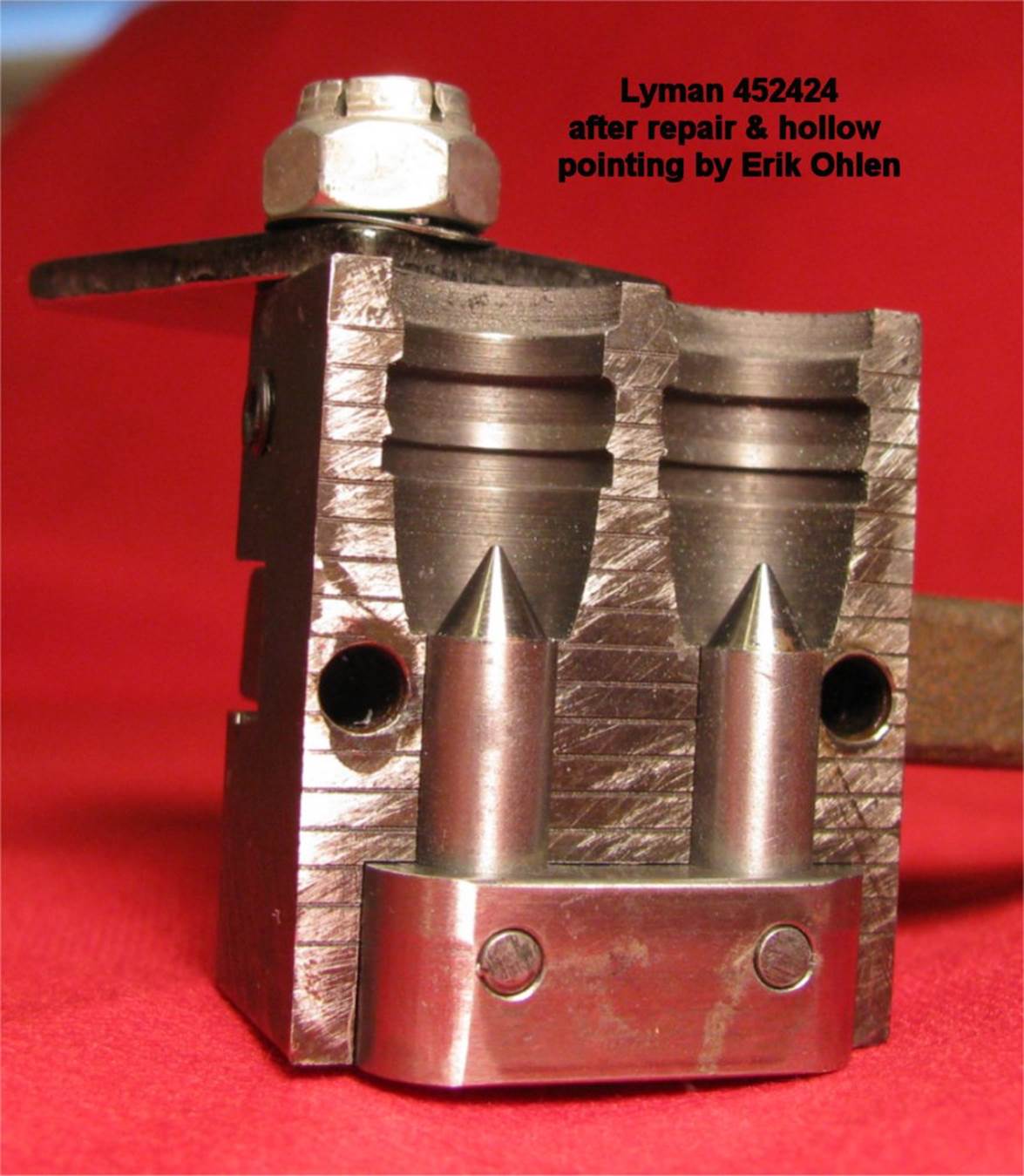 <![endif]>
Hollow Point cavities showing pins and index bar…
<![if !vml]>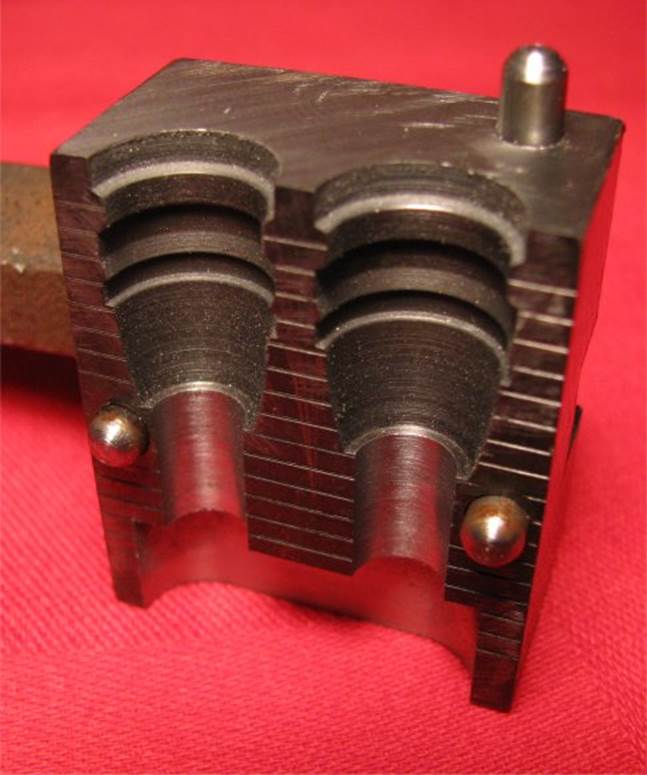 <![endif]>
<![if !vml]>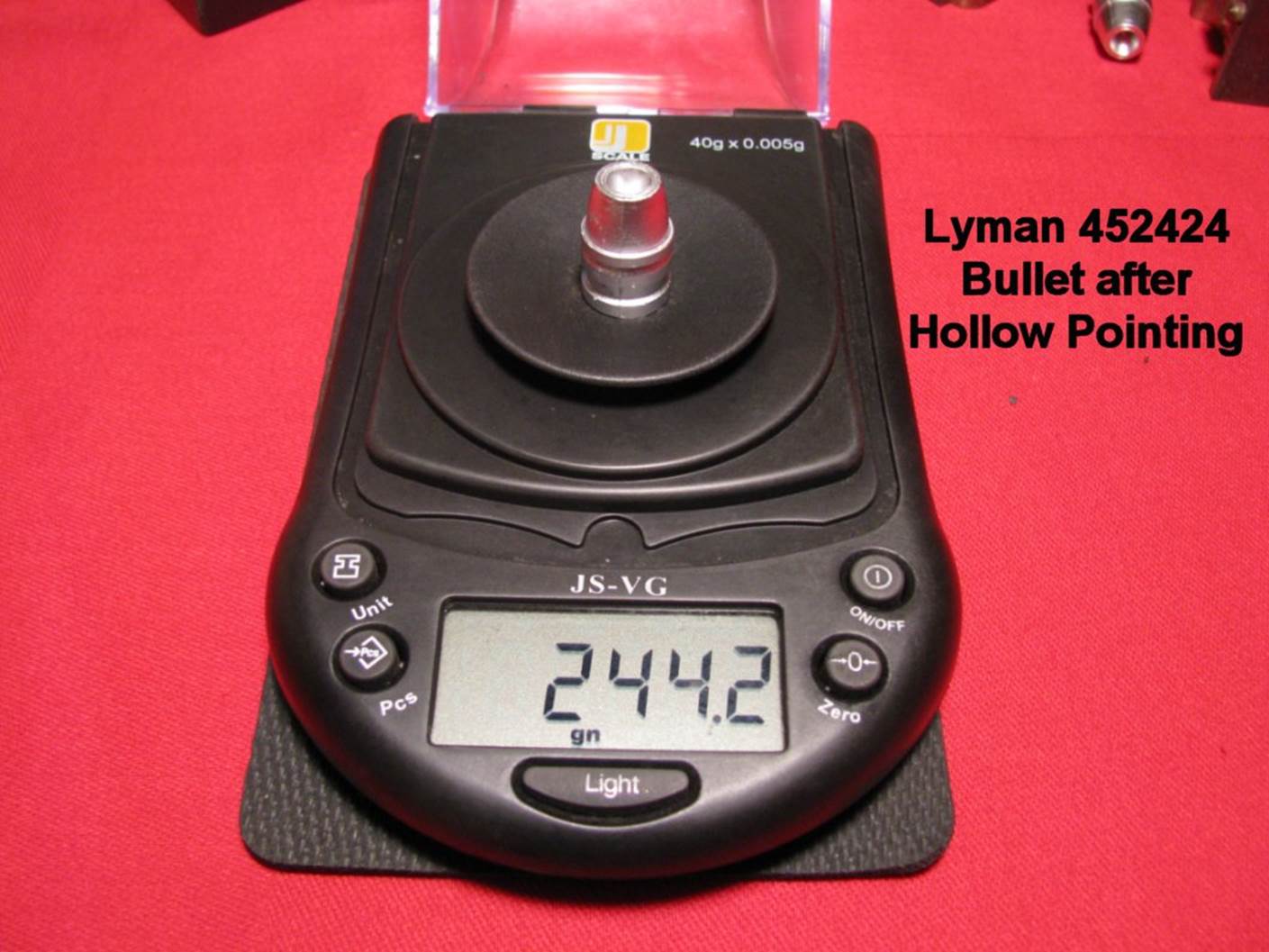 <![endif]>
Weight of cast hollow points…
Colt Combat Commander in .45ACP with Lyman 452424
Hollow Point Bullet & Hensley & Gibbs #68 Bullet
An Interesting Experiment…
I was loading Hensley & Gibb's #68's into .45ACP brass the other day with my Dillon 550 when towards the end of the loading session I impulsively loaded a dummy round using the Lyman 452424 Hollow Point that was lying in the box on the table.
The Lyman projectile seated to the same Cartridge Over All Length (COAL) in the .45ACP case and looked very similar in profile to the Hensley & Gibbs #68. 
So I did some online research and decided 5.0 grains of W231 would be a good load for the Lyman 452424 Hollow Point and loaded up about 50:
<![if !vml]>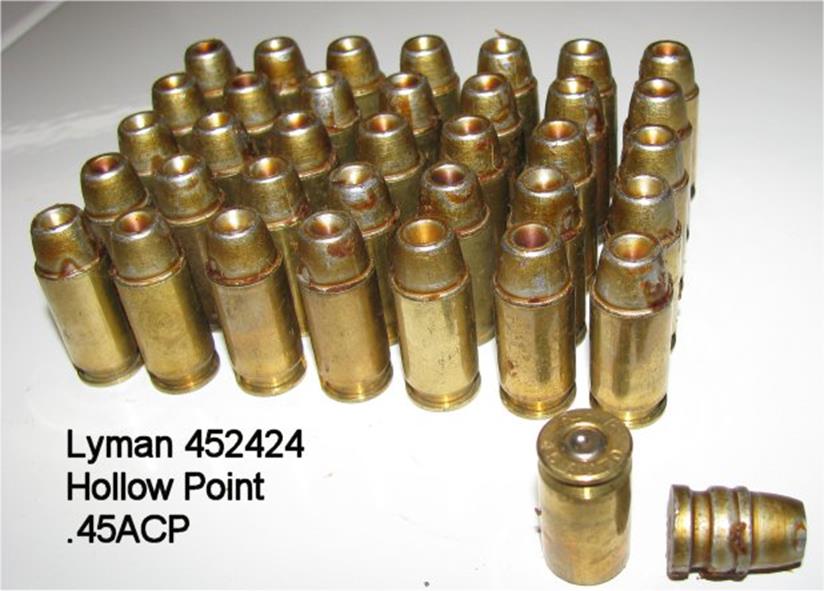 <![endif]>
<![if !vml]>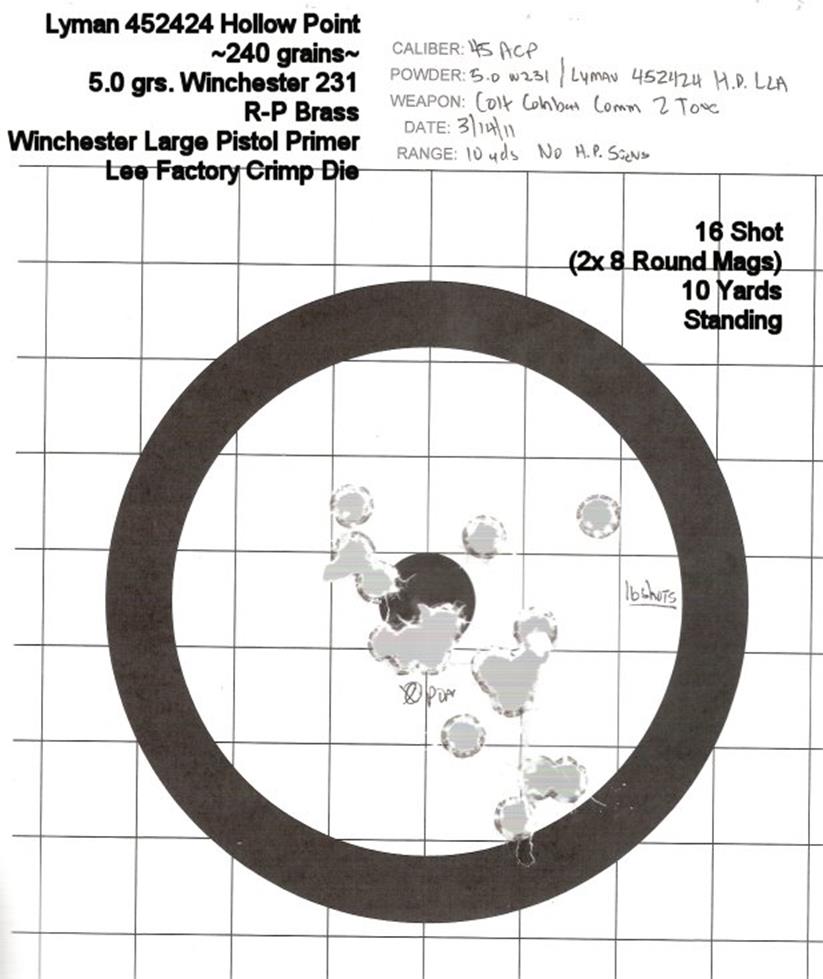 <![endif]>
The loads functioned perfectly in a Colt Combat Commander using Wilson Combat mags.  Accuracy was respectable as was recoil.  No high pressure signs.  The rounds shot almost to the same point of aim as the Hensley & Gibbs #68.
I know I am not the first to try this experiment, I seem to recall Skeeter Skelton trying the same thing with a 1911 years ago in one of his Shooting Times articles.
Return to the Hensley & Gibbs Page