Hensley & Gibbs #503 PB Two Cavity Hollow Point Conversion
©2014 – Thomas C. Dugas
<![if !vml]>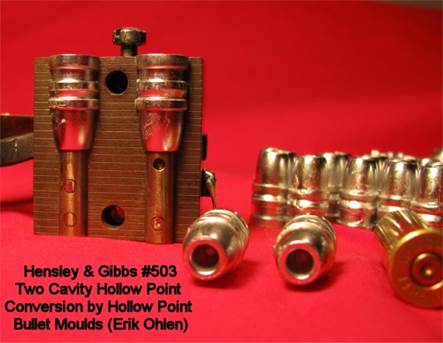 <![endif]>
Hensley & Gibbs #503 Two Cavity hollow point conversion by Hollow Point Bullet Moulds  - Erik Ohlen in April of 2012.  Depicted are the "deep" hollowpoint pin set I ordered in addition to a standard cup point set (not shown).
<![if !vml]>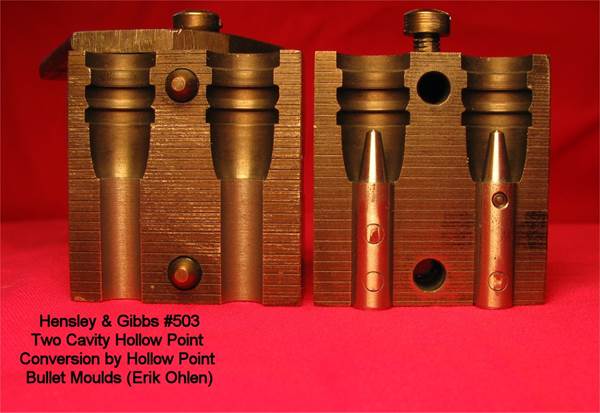 <![endif]>
<![if !vml]>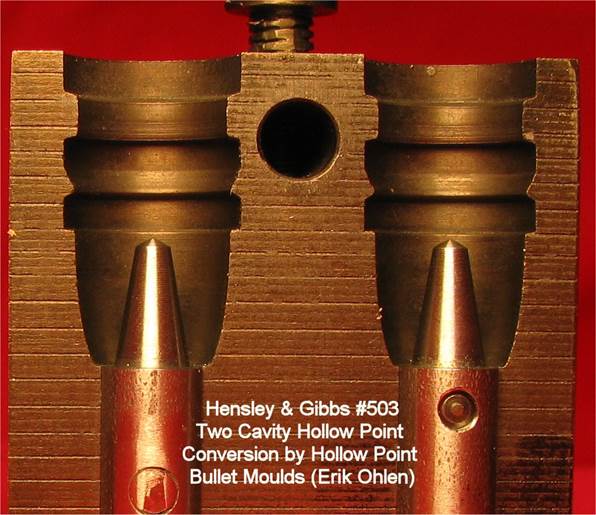 <![endif]>
<![if !vml]>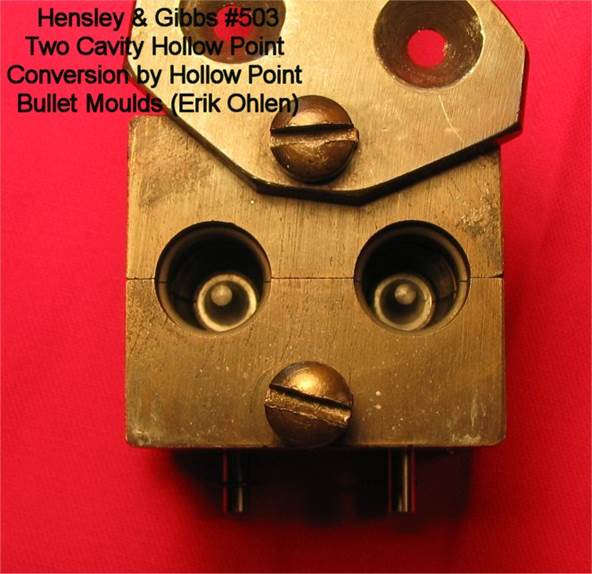 <![endif]>
<![if !vml]>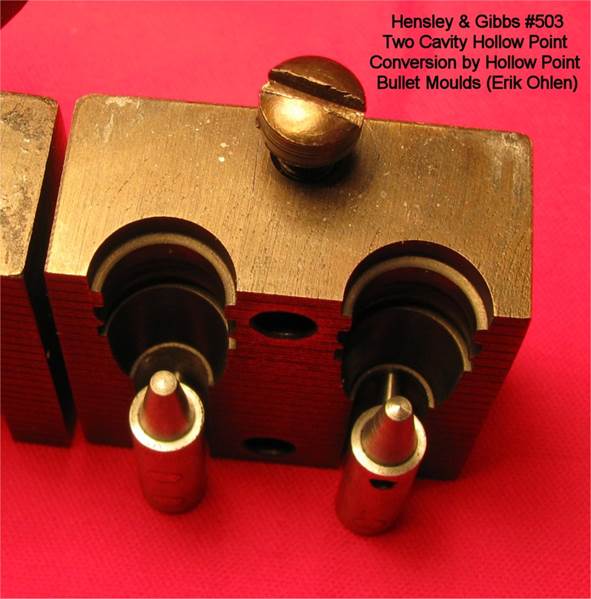 <![endif]>
<![if !vml]>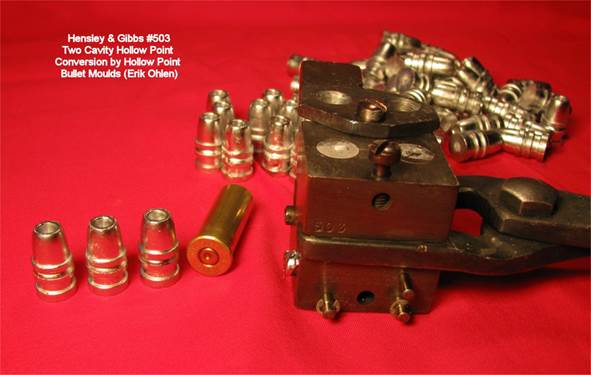 <![endif]>
Here is the entry for the Hensley & Gibbs #503 from the Hensley & Gibbs factory ledger:
#503 - .44 Caliber. 250 grains. "Keith style", designed by Elmer Keith. Plain base, one square grease groove, one heavy crimp groove, semi-wadcutter shoulder, gently rounded nose taper, to slightly rounded meplat.
I purchased this two cavity mould from an online friend recently.  This is one of the last two cavity moulds I wanted for my hollow point mould collection.
As expected, the mould was a joy to use.  Once the mould reached operating temperature, bullets dropped with a few taps on the hinge.  Here are the results of the first casting session today:
<![if !vml]>
<![endif]>
<![if !vml]>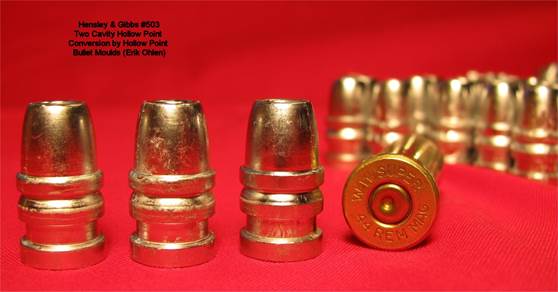 <![endif]>
Bullet fillout improves left to rightas mould gets hotter…
In the above photo you can see the progression of the fill-out as the mould gets hotter.  The first projectile on the left was one of the first, and the third on the right is one of the last when the mould was nice and hot.
Weights of the hollow points seem to hover within a tenth of a grain at 235 grains each.  As cast diameters were spot on at ~.430" :
<![if !vml]>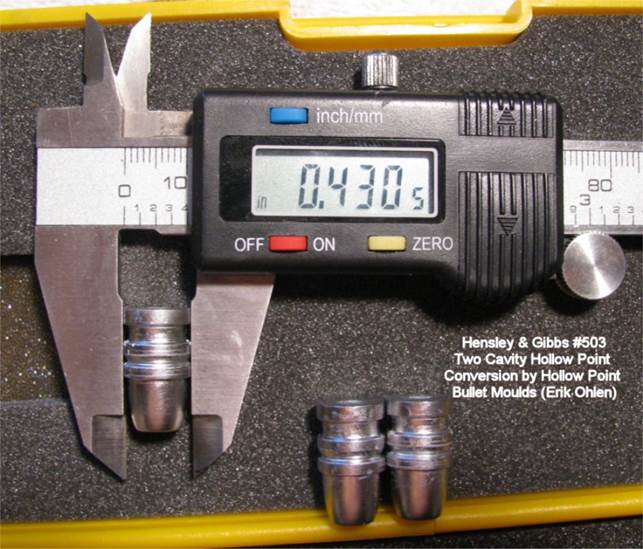 <![endif]>
Range Results
Range results for WC820PD (Pull Down Powder).  WC820PD is my most common "go to" powder since I have quite a bit of it stashed away.  I will post with 2400 and W296 later.  My previous range notes with 240 grain projectiles shows approximately 1,000 fps for 21.0 grains of WC820PD.
Weapon was a Smith and Wesson Model 29-5 Hunter with 4 position front sight.  Range 10 yards standing.
Click the images for a larger image:
19.5 Grains WC820 PD:
<![if !vml]>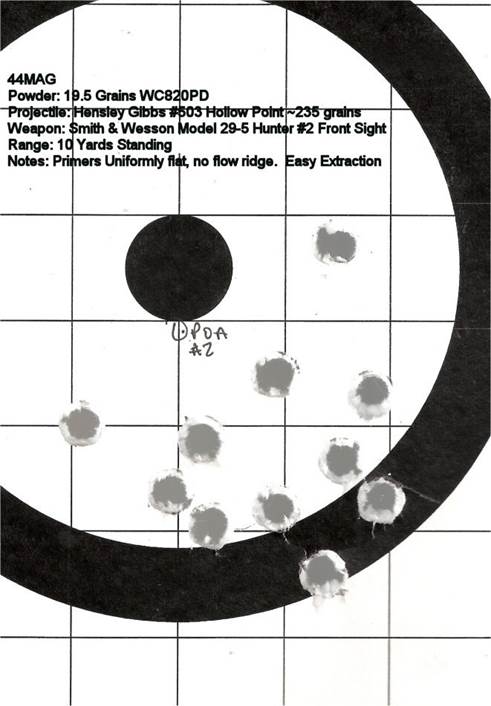 <![endif]>
20.5 Grains WC820 PD:
<![if !vml]>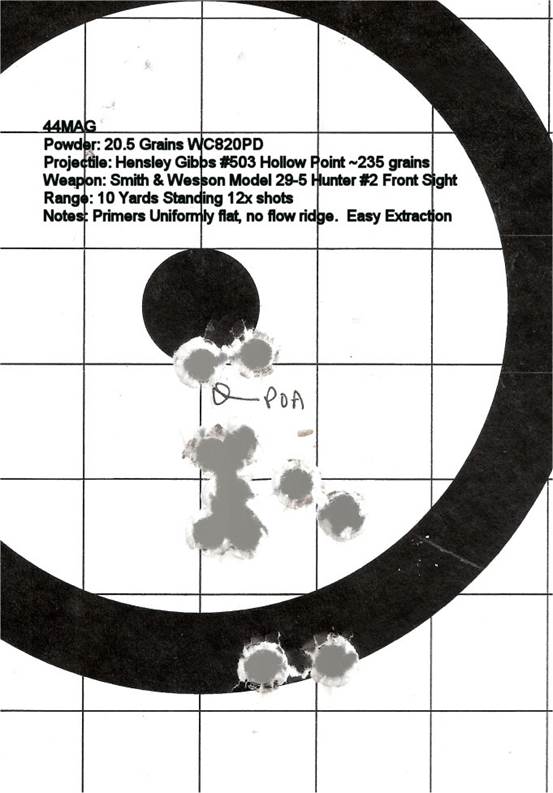 <![endif]>
21.5 Grains WC820 PD:
<![if !vml]>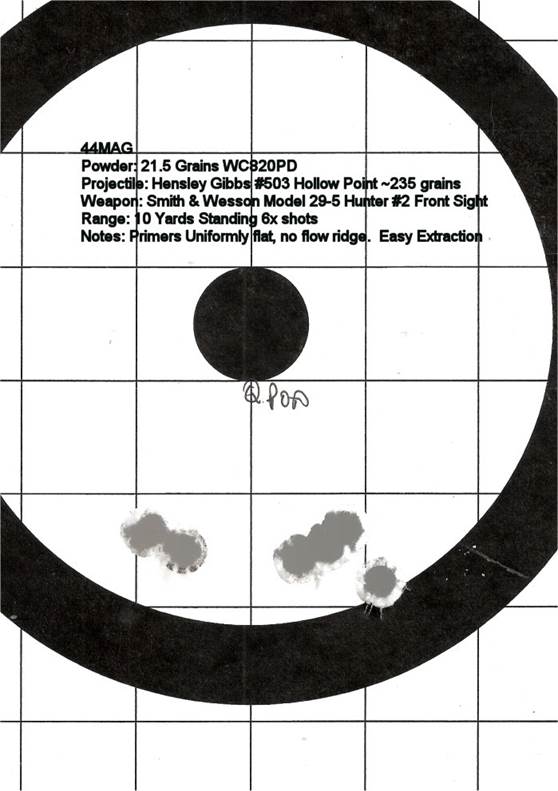 <![endif]>
Return to the Hensley & Gibbs HollowPoint Page
Return to the Hensley & Gibbs Main Page